Venue
The Conference will be held at the Coast Canmore Hotel and Conference Centre, located in the resort town of Canmore in Alberta, Canada, surrounded by the Canadian Rockies.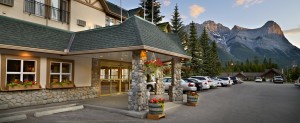 Canmore
The city of Canmore boasts stunning vistas and glimpses of glacier-fed rivers, set in the midst of the mountains. Downtown Canmore's charming Main Street is brimming with shops, cafes, and restaurants, with plenty of options to augment your stay in town.
Elevation Place, a state-of-the-art community center with aquatic and fitness facilities, an indoor climbing wall, gathering spaces, an art gallery, and library, is located in the heart of downtown at 700 Railway Avenue. Daily pass rates can be found here.
Outdoor activities include hiking, biking, and mountain biking. For an extensive list of hikes spanning abilities and different types of natural attractions, visit "Hiker's Nirvana" at Tourism Canmore. The Canmore Nordic Centre park also has plenty of hiking trails to keep you busy, along with over 100 km of mountain biking trails. When there's snow on the ground, you can take advantage of the Centre's snowshoe, cross-country skiing, and tobogganing offerings, too.
Getting Around Canmore
Canmore shares a public bus system, Roam, with Banff and the surrounding Bow Valley area. The trip planner is available here.
Sights and the Surrounding Area
Canmore is located just 20 minutes east of the resort town of Banff, located within Banff National Park. You can drive a rental car or take a Roam bus to get to Banff, but be aware that you will need a park pass to enter Banff if you are driving there yourself.
The Canadian Rockies offer other parks and areas of natural beauty, from the secluded northern wilderness of Jasper National Park to the turquoise waters of Lake Louise. Connecting Lake Louise, about an hour's drive from Canmore, and Jasper National Park, about two-and-half hour drive from Canmore, the Icefields Parkway has many scenic stops. With glaciers, mountain-fed lakes, and plenty of wildlife to spot on your journey, the Parkway is surrounded by natural beauty.