Coast Canmore Hotel and Conference Centre
A block of rooms at the Coast Canmore Hotel and Conference Centre, the conference venue, has been reserved from May 6-11, 2018. The room rate is 149 CAD per night, and negotiated rates are available three days before and three days after the conference based upon availability at the time of booking. Rooms feature either one king-sized bed or two queen-sized beds and free wifi. Room rates are based on one or two guests in a room, with an extra 15 CAD per night for additional adults over 18, and do not include taxes.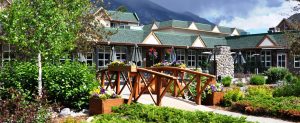 To receive the discounted rate, make your reservation by April 3, 2018.
Make your reservation by visiting http://coa.st/ei0n. Because the hotel has its rooms set aside for our Conference, you can only make reservations through that link. The hotel and discount code are pre-entered in the form, so you can simply make sure the dates are correct, select the number of adults in the room, and hit "Search" to begin your booking. You can also call the toll-free reservation line, 800-663-1144, with your name, address, contact information, arrival and departure dates, number of people in the room, names of any guests sharing the room, and payment method. Be sure to refer to the "GEWEX Open Science Conference" when making your reservation to receive the discounted rate, and please note that all reservations must be made directly with the hotel.
Cancellations must be made by 6:00 pm the day prior to arrival. No-show reservations will be billed the equivalent of one night's stay. The amount owed for no-shows and cancellations is the responsibility of the conference attendee.
---
Coast Canmore Hotel and Conference Centre
Address: 511 Bow Valley Trail, Canmore, AB T1W 1N7, Canada
Reservation number: 800-663-1144
Website: https://www.coasthotels.com/hotels/ab/canmore/coast-canmore-hotel-and-conference-centre/
---
Other Lodging Options
There are alternate options for your stay in Canmore. Several located mostly within walking distance of the Coast Canmore Hotel are listed below. Please note that prices are estimates based on August 2017 rates. Conference attendees are responsible for making their own reservations.
Mountain View Inn
Prices start at 79 CAD for an Economy Double Queen Room up to 129 CAD for a Premium King Suite. The Inn is located down the road from the Coast Canmore, approximately 180 m away.
Telephone number: 1-888-849-5445
Blackstone Mountain Lodge by CLIQUE
Prices start at CAD 169 for a deluxe room; a one bedroom suite is 189. Prices go up from there for condo-style units. The Lodge is located about 800 m away from the Coast Canmore, which is an 8-10 minute walk.
Telephone number: 1-888-830-8883
Holiday Inn Canmore
Rates vary, but prices start at 291 CAD. The Holiday Inn is located about 1.1 km away from the Coast Canmore, with a 15 minute walk or two minute drive between the two.
Telephone number: 1-403-609-4422