Venue
The 2023 GDAP Meeting will take place at:
The NASA Goddard Institute for Space Studies (GISS)
2880 Broadway
New York City, NY
U.S.A.
NASA Goddard Institute for Space Studies
intersection of Broadway and West 112th St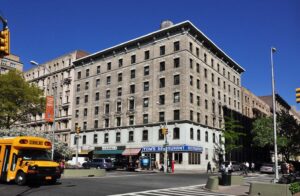 Accommodation
Within the vicinity of the meeting venue, there are many types of accommodations available. Please use your preferred booking method to find your accommodation.
Recommendations from our local host are:
For an overview of additional accommodations in the area of the meeting venue click here.
Transportation
To New York City
By Air
Air travelers to New York City may arrive at John F. Kennedy International Airport (JFK) or LaGuardia Airport (LGA), both in Queens, or Newark Liberty International Airport (EWR) in neighboring New Jersey. Visitors can reach Manhattan from all three airports by using taxis, buses subways and/or commuter trains. Detailed information on how to travel from each airport to Manhattan can be found here.
By Train
New York City has two main rail stations in Midtown Manhattan: Grand Central Terminal (on the east side) and Penn Station (on the west side). There is access to numerous subway and bus lines from each station. Grand Central is home to Metro-North Railroad, which goes to NYC suburbs in New York and Connecticut. Penn Station is home to the following: Long Island Rail Road, a commuter railroad serving Long Island and parts of Queens and Brooklyn; Amtrak, the US national passenger railroad, serving many points throughout the United States and Canada; and NJ Transit, a commuter railroad serving New Jersey and parts of Pennsylvania.
By Bus
There are a number of affordable, convenient bus lines that travel to New York City which include include BoltBus, Megabus and Greyhound.
Detailed information on ways to travel to New York City can be found here.
In New York City
Given the efficiency of public transport in New York City, it's not advised to drive, especially in Manhattan. Roads are busy and parking is expensive. The City's rail and bus system is run by the Metropolitan Transportation Authority (MTA).
The subway is the easiest and quickest way to travel around New York City. You can buy MetroCards at stations; you must put a minimum value of $5.50 on the card, not including the card fee ($1), when initially buying it. An unlimited MetroCard allows users to ride as often as they like within a fixed time period: options include cards that last for seven days ($33) or 30 days ($127).
Another option to travel in New York City is by bus. All city buses accept the MetroCard, a new contactless payment system dubbed OMNY (One Metro New York) for all buses and subway trains and exact coin change.
The City's fleet of yellow taxicabs and green Boro Taxis are licensed and regulated by the NYC Taxi & Limousine Commission.
Health and Safety
Emergency: dial 9-1-1
Non Emergency: dial 3-1-1 for the City's official government services and information hotline
New York remains among America's safest large cities, but visitors should still use common sense to protect themselves and their property. Be aware of your surroundings, and make sure to always use licensed, reputable businesses for any services you need. Your hotel concierge should be able to answer questions on this topic and will be helpful if you need more information about neighborhoods in the five boroughs.
Visa and other requirements to enter the United States
Generally, if you want to visit the United States for business or pleasure, you must first obtain a visitor visa. More information about applying for a Nonimmigrant Visa to the U.S. can be found here.
New York City and things to do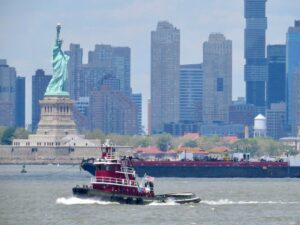 New York City (NYC) is both the most populous and most densely populated major city in the United States. New York City comprises 5 boroughs (Brooklyn, the Bronx, Manhattan Queens and Staten Island) sitting where the Hudson River meets the Atlantic Ocean. At its core is Manhattan, a densely populated borough with major commercial, financial and cultural centers.
As in any metropolis there is much to do in NYC, too much to list here. Please visit https://www.nyctourism.com/things-to-do to find things that pique your interest.
Disclamer
The organizers cannot accept liability for personal accident, loss, or damage to private property, which may be incurred as a result of the participation in the 2023 GDAP meeting. Participants are, therefore, advised to arrange appropriate insurance coverage.
The organizing committee will not accept liability for damages of any nature sustained by participants or loss of or damage to their personal property as a result of event.