Venue
The GEWEX SSG-34B will be held at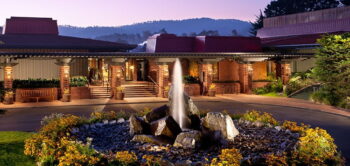 Accommodation
A limited block of guest rooms is reserved at the Hyatt Regency Monterey Hotel and Spa for Pan-GEWEX 2022 participants at the government rate in 2022. For additional information and/or to take advantage of this offer, which expires on June 27th, click here.
Note that reservations are between participants and the Hyatt Regency Monterey Hotel.
Click here to find other accommodations near the Hyatt Regency Monterey hotel.
Transportation
Fly to Monterey
Monterey Regional Airport (MRY) is only 6 minutes from the Hyatt Regency Monterey hotel and offers direct flights from eight cities: Las Vegas, Los Angeles, Phoenix, San Francisco, San Diego, Denver, Dallas/Fort Worth and Seattle. Travel from MRY to downtown Monterey by:
Taxi

to downtown or Cannery Row costs about $20 to $25. There is also a $3 airport service charge that the driver adds to the fare when you arrive at your destination. Other rideshare options like Uber and Lyft are available also. Click

here

for more information.

Monterey Salinas Transit

: The walk to the bus stop from the terminal is just over a mile and a half. After you land and pick up your luggage, walk out to Fremont Boulevard to catch the bus.

To Downtown Monterey: If you are heading downtown, catch either the 56 or 93 bus at the airport. You will then transfer over to either the A or B at Fremont/Aguajito. It takes just over an hour and costs $2.50 per person.
To Cannery Row: If you are heading to Cannery Row, follow the same steps above. You will stay on the bus until you reach Cannery Row. This will take about an hour and 15 minutes.
Other nearby airports are Norman Y. Mineta San Jose International Airport (SJC), located 90 minutes from downtown Monterey, and San Francisco International Airport (SFO), located 2 hours from downtown Monterey. Monterey Airbus offers regularly scheduled shuttles and convenient door-to-door services to and from SJC and SFO.
More information on flying to Monterey can be found here.
Monterey by Bus or Train
Amtrak's Coast Starlight train cruises through Salinas each day on its route between Seattle, Washington and Los Angeles, providing a leisurely and scenic way to travel. It's a great way to see the grandeur of the Central Coast at eye level. Free bus service is provided from Salinas to downtown Monterey, a 30-minute ride. There is also a Greyhound station in Salinas with connecting service to Monterey.
Monterey Transportation around Town
During the summer period (25 May-2 September) the free MST trolley runs with stops in downtown, at Fisherman's Wharf, along Cannery Row and at the Monterey Bay Aquarium between 10 am and 7 pm daily and departs every 10-15 minutes. For more information on the MST trolley and its route click here.
Apart from conventional taxi service both Uber and Lyft are available in Monterey.

Visa and other requirements to enter the United States
Generally, if you want to visit the United States for business or pleasure, you must first obtain a visitor visa. More information about applying for a Nonimmigrant Visa to the U.S. can be found
here
. In regards to COVID-19, the latest requirements for Air Travelers to the U.S. can be found
here
.
The City of Monterey, CA
The City of Monterey is located on a peninsula at the southern end of Monterey Bay on the central coast of California, U.S.A. and boasts a temperate climate year-around. The first settlers of Monterey were Native Americans known as Rumsiens. Founded on 3 June 1770, Monterey has been under Spanish ( 1804-1821) and Mexican (1822-1834) rule. Although the United States flag was already raised over the Customs House in 1846, it took until the end Mexican-American war that California was ceded to the United States in the treaty of Guadalupe Hidalgo in 1848.

Monterey is a popular destination for scuba divers as it is well known for the abundance and diversity of its marine life, which includes sea lions, sea otters, harbor seals, bat rays, kelp forests, pelicans, dolphins and several species of whales. Only a few miles offshore is the Monterey Canyon, the largest and deepest (3.2 km) underwater canyon off the Pacific coast of North America.

Some main attractions in Monterey are: The Monterey Bay Aquarium on Cannery Row, which is one of the largest aquariums in North America; 17-Mile Drive for beautiful scenery and stunning views; Cannery Row, which is a waterfront street that originally served as a fish packing area but today is one of Monterey's main tourist areas, with shops, restaurants, and a scenic waterfront; and Old Fisherman's Wharf, a great place for drinks and seafood. For more information on things to do and see in Monterey, click here.
Health and Safety
Emergency: dial 9-1-1
Non-Emergency: dial (831) 646-3914 or visit the City of Monterey Emergency Resources
Phamarmacy: for an overview of pharmacies in Monterey, CA, click
here
.
In regards to COVID-19, the latest requirements for Air Travelers to the U.S. can be found here.
Insurance and Disclaimer
The organizers cannot accept liability for personal accident, loss, or damage to private property, which may be incurred as a result of the participation in the GEWEX SSG meeting. Participants are, therefore, advised to arrange appropriate insurance coverage.
The organizing committee will not accept liability for damages of any nature sustained by participants or loss of or damage to their personal property as a result of event.
Background image courtesy of Liz Lawley,'Monterey Harbor Seals'