Venue
The GEWEX SSG-34A, will be held at:
Sorbonne Université – Pierre and Marie Curie Campus (UPMC)
The Zamansky Tower
Panorama – Room 2402 (24th Floor)
4 place Jussieu
75005 Paris
France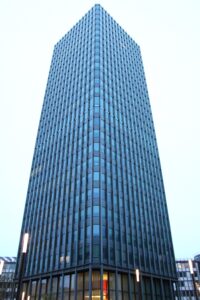 The Zamansky Tower
The Zamansky Tower is located on the Pierre and Marie Curie Campus, in the 5th district of Paris, in the heart of the Latin Quarter. The 24th and last floor of the tower offers a panoramic view of Paris.
Access:
By subway

Ligne 7 – Jussieu Stop
Ligne 10 – Jussieu Stop

By bus:

Ligne 67 – Jussieu Stop
Ligne 63 – Rue des Fossés-St-Bernard Stop or Quai St-Bernard Stop
Ligne 86 or 87 – Rue des Fossés St-Bernard Stop
Ligne 89 – Jussieu Stop or Cardinal Lemoine Stop or Quai St-Bernard Stop

By RER:

Ligne C – Gare d'Austerlitz Station or Cluny La Sorbonne Station
Ligne B – Cluny La Sorbonne Station
Accommodations
To book your hotel, you can either contact the hotels below, all located near the Venue, or use the
Convention and Visitors Bureau facilities
, or one of the hotel booking facilitators.
Hotels in the area:
Transportation
Getting to Paris by air
Paris has two international airports, Paris-Charles de Gaulle (CDG) (23km north of Paris) and Paris-Orly (14km south of Paris) (ORY). The latest information on travel formalities and documents to Paris by air can be found
here
.
From Charles de Gaulle airport (CDG) or Orly airport you can travel to the city centre of Paris by train, bus or taxi.
For information and to book a ticket from CDG to Paris go to
https://www.welcomepickups.com/paris/charles-de-gaulle-airport-to-city/
.
For information and to book a ticket from Orly Airport to Paris go to
https://www.welcomepickups.com/paris/orly-airport-to-city/
.
Getting to Paris by train
There are six Paris train stations, or gares, taking passengers from and to destinations throughout France and the rest of Europe — Gare du Nord, Gare de l'Est, Gare de Lyon, Gare d'Austerlitz, Gare Montparnasse, Gare Saint-Lazare. If you want to travel to Paris by train click
here
to find suitable options.
Transportation in Paris
The Paris public transport system is run by
RATP
and consists of the Métro (underground), Tram, RER suburban express train (which interconnects with the Métro inside Paris), bus and Noctilien (night bus). Paris and its surburbs divide into 6 zones. Zones 1 and 2 cover the city center and ALL Métro lines.
RATP tickets and passes are valid on the Métro, tram, buses and RER. The Métro alone is very efficient and will take you anywhere you need to go within Paris city limits, and sometines slightly beyond. Buses are less reliable but still offer a good service.
The Paris Metro is very easy to use and, given the traffic congestion in Paris, is often much faster than taking a taxi. The various lines are numbered and color-coded. You need to identify the number of the line and name of the station at the end of the line in the direction you wish to go so that you know which way to go in the station.
The Paris Visite Pass is valid for either 1, 2, 3 or 5 days' unlimited use on all RATP services (Métro, suburban trains, trams, buses, etc.). Fares vary according to number of days and travel zones selected. For more information on transportation, tickets and passes in Paris click
here
. RATP offers
maps
for the metro, RER, tram and bus lines that make up the Paris transport network. They are interactive and downloadable in PDF format. Everything you need to know to plan your visit to Paris is available
here
.
Visa and other requirements to enter France
Residents of certain countries must apply for a visa in their home country before entering France. With the Visa Wizard you can easily check whether this applies to you or not. Click
here
to acces the Visa Wizard.
The latest news on COVID19 restriction when traveling to France can be found
here
.
The city of Paris
Paris is the capital and most populous city of France, with an estimated population of 2,16 million residents (Jan. 2019). Since the 17th century, Paris has been one of the world's major centres of finance, diplomacy, commerce, fashion, gastronomy, science, and arts. Paris is especially known for its museums and architectural landmarks like the
Louvre Museum
, noted for their collections of French Impressionist art and home to some of the best-known works of arts, including the Mona Lisa and the Venus of Milo,
Centre Pompidou
with a large collection of modern and contemporary art,
the Eiffel Tower
,
Arc de Triomphe
and
the Cathedral of Notre Dame
. Each of Paris's neighbourhoods has its own characteristics and dynamics, from the village of Montmartre, to the Latin Quarter, through to the cradle of the Île de la Cité. For more information on Paris and things to do, visit
Explore France
and
Paris
, the official website of the Convention and Visitors Bureau.
Health and Safety
Pharmacies can be identified by a Green Cross.
Medical emergency: dial 15
Police: dial 17
Fire department (fires, accidents, emergency): dial 18
The latest news on COVID19 restriction when traveling to France can be found
here
.
As in any large city, be aware of situations where pickpockets may be a problem, especially in crowded places like some of the major subway stations. In general, Paris is a safe city.
Insurance and disclaimer
The organizers cannot accept liability for personal accident, loss, or damage to private property, which may be incurred as a result of the participation in the GEWEX SSG meeting. Participants are, therefore, advised to arrange appropriate insurance coverage.
The organizing committee will not accept liability for damages of any nature sustained by participants or loss of or damage to their personal property as a result of event.
Background image by courtesy of Thinkrorbot "Paris".
Image Zamansky Tower by courtesy of Fred Romero "Paris – Université Pierre & Marie Curie (UPMC).