The 2019 GEWEX Data and Analysis Panel (GDAP) meeting will take place in Tucson, Arizona from Wednesday through Friday, 22–24 January 2020. This meeting is hosted by Ali Behrangi at the University of Arizona.
GDAP was organized to bring together theoretical and experimental insights into the radiative interactions and climate feedbacks associated with cloud processes. The central question that governs the GDAP mission is: "how sensitive is the Earth's climate to changes in radiative and other forcings?" Answering this question will enable improved prediction of transient natural climate variations, such as El Niño, and provide better understanding of the consequences of natural and human-induced climate changes.
This year's annual GDAP Meeting will review progress of the ongoing GDAP Assessments and Projects. As one of the four panels of the Global Energy and Water Cycle Exchanges (GEWEX), a core program of the World Climate Research Program (WCRP), the GEWEX Science Questions and the WCRP Grand Challenges will be at the heart of these discussions.
Agenda
For the agenda click here.
If you are scheduled to give a presentation, please upload your file (JPG, PDF, PNG) as soon as possible.
Registration
If you have received an invitation and want to attend the 2020 GDAP Meeting, please register.
Venue and Lodging
Lodging
Block reservations have been made for the following hotels.
Aloft Tucson University Hotel

is offering a rate of $169.00 per night if you book by December 15th, 2019. Please use

THIS LINK

to make your reservation at Aloft. The name of the room block is "GDAP Panel Meeting".


Walking Map

from hotel to UA Student Union.
Make sure you make your reservations in time, as there is a high demand for all nearby lodging during Tucson's Gem Show season.
Venue
The 2020 GDAP Meeting will take place at the University of Arizona, Student Union Memorial Center, 1303 E. University Blvd, Tucson, AZ, USA.
Wednesday 22 Jan. and Tuesday 23 Jan. the meeting will take place in the Sabino room (level 3) and on Friday 24 Jan in the Mesquite Boardroom (level 3) Click on the Student Union Map for location.
For the pdf-map and directions, click here.
Google Map to Student Union Memorial Center
Visa
Be aware that all visitors must have a valid visa to travel to and enter the United States of America.
For more information, click here.


A big thank you to the generous host, University of Arizona, dep. Hydrology & Atmospheric Sciences and the Earth Dynamics Observatory.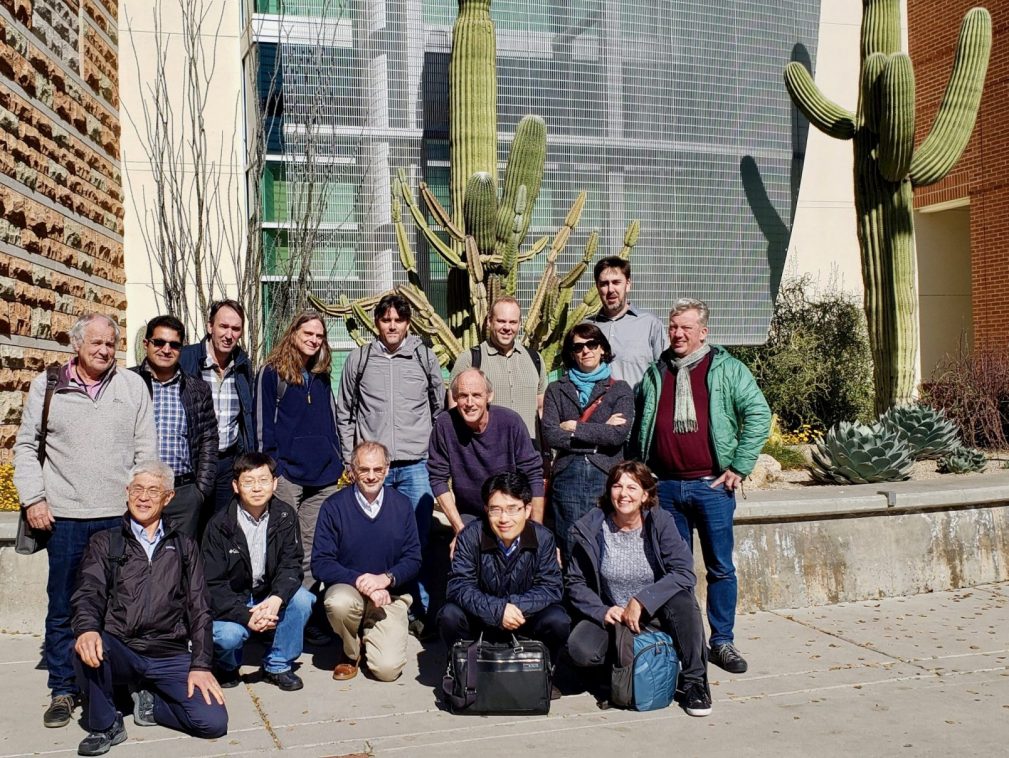 From left to right:
Back row: Graeme Stephens, Ali Behrangi, Peter van Oevelen, Tim Boyer, Christian Lanconelli, Tristan L'Ecuyer, Andrew Heidinger
Middle row: Seiji Kato, Eui-Seok Chung, Jim Mather, Chris Kummerow, Catherine Naue, Rémy Roca
Front row: Hiro Masunaga, Fernande Vervoort




Background image courtesy of John Fowler, Saguaros National Park