Home | Agenda | Lodging & Logistics | Reports
2015 GHP Meeting
The World Climate Research Programme (WCRP) Global Energy and Water Exchanges Project (GEWEX) Hydroclimatology Panel (GHP) met in Entebbe, Uganda, from 17-19 November 2015. The meeting was being hosted by the Uganda National Meteorological Authority (UNMA). Thanks to all those who participated, and to UNMA for its hospitality and planning efforts.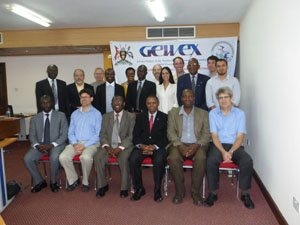 The goal of the 3-day meeting was to evaluate the ongoing and planned GHP activities to ensure that the Panel contributes effectively to the leading role that GEWEX plays in the hydrological sciences and related modeling activities. The GEWEX Science Questions addressing the WCRP Grand Challenges will be at the heart of the discussions, resulting in improved interactions between the GEWEX RHPs and strengthen their involvement in crosscutting projects.
Images at top used under Creative Commons license. From left to right: Rod Waddington, Gotouganda, and CIAT, the International Center for Tropical Agriculture.