The "International Conference on Tibetan Plateau and High Mountains Energy and Water Exchanges: Climate Impact and Adaptation (TEWEX-CLIMA)" will be held at Diqing, Yunnan, China, from August 7 to 10, 2023. The conference is hosted by the State Key Laboratory of Numerical Modeling for Atmospheric Sciences and Geophysical Fluid Dynamics (LASG), Institute of Atmospheric Physics (IAP), Chinese Academy of Sciences (CAS).
TEWEX-CLIMA is organized by the program "Change of the Land-Air Coupled System over the Tibetan Plateau and Its Global Climate Effect (LASTPIC)", which is a ten-year flagship program launched by the National Natural Science Foundation of China (NSFC) in 2014) with major support from the Global Energy and Water Exchanges (GEWEX) of the World Climate Research Programme (WCRP).
Co-organizers also include the Swedish Foundation for International Cooperation in Research and Higher Education (STINT), the State Key Laboratory of Severe Weather (LaSW), Chinese Academy of Meteorological Sciences (CAMS), Yunnan University and Xiamen University. The conference will consist of several invited plenary lectures, parallel sessions and posters. Lectures by invited speakers will form the core of the agenda.
Theme
Improving understanding of land-air coupling over the Highlands in Asia and over the world for better climate prediction and better service to society
Sessions
Land-air coupling process and troposphere-stratospheric interaction
Climate/weather impact and adaptation
Changing (Asian) water tower and its impact
Observation, modeling and data assimilation
Venue
The meeting will be held at
Shangri-La Paradise Hotel
Middle Section of Long March Road
(Changzheng Lu Zhong Duan),
Shangri-La, Diqing, Yunnan
China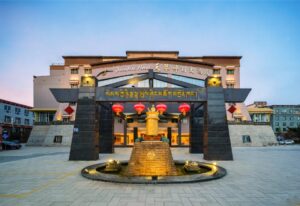 Important Dates
June 10, 2023: Deadline for Submission of Abstracts
June 15, 2023: Abstract Acceptance Notification and Deadline for Invitation Letter requirement (Visa application)
June 20, 2023: Deadline for Early Bird Registration
For additional information and to register or submit your abstract (General Instruction tab) visit the official meeting website at https://tewex-clima2023.casconf.cn.