Venue
The 3rd Pan-GASS Meeting, Understanding and Modeling Atmospheric Processes, will be held at the
Monterey Conference Center in Monterey (CA) USA. The address is: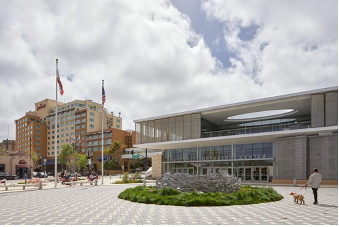 Monterey Conference Center
One Portola Plaza
Monterey, CA 93940
USA
Accommodations
The Monterey Conference Center has two connected hotels:
The Marriot Monterey (preferred supplier)
350 Calle Principal,
Monterey, CA, 93940
USA
A limited block of rooms is reserved for participants of the 3rd Pan-GASS Meeting at The Marriot Monterey. Click here to make your reservation.
Portola Hotel & Spa
2 Portola Plaza,
Monterey, CA 93940
USA
For other hotels in the area, which are within walking distance of the Monterey Convention Center, please click here.


Transportation
Fly to Monterey
Monterey Regional Airport (MRY) is only 10 minutes from Monterey Conference Center and offers direct flights from eight cities: Las Vegas, Los Angeles, Phoenix, San Francisco, San Diego, Denver, Dallas/Fort Worth and Seattle. Travel from MRY to downtown Monterey by:
Taxi

to downtown or Cannery row costs about $20 to $25. There is also a $3 airport service charge that the driver adds to the fare when you arrive at your destination. Other rideshare options like Uber and LYFT are available also. Click

here

for more information.

Monterey Salinas Transit

: The walk to the bus stop from the terminal is just over a mile and a half. After you land and pick up your luggage, walk out to Fremont Boulevard to pick up the bus.

To Downtown Monterey: If you are heading downtown, pick up either the 56 or 93 bus at the airport. You will then transfer over to either the A or B at Fremont / Aguajito. It takes just over an hour and costs $2.50 per person.
To Cannery Row: If you are heading to Cannery Row, follow the same steps above. You will stay on the bus until you reach Cannery Row. This will take about an hour and 15 minutes.
Other nearby airports are Norman Y. Mineta San Jose International Airport (SJC), located 90 minutes from downtown Monterey; and San Francisco International Airport (SFO), located 2 hours from downtown Monterey. Monterey Airbus offers regularly scheduled shuttles and convenient door-to-door services to and from SJC and SFO.
More information on flying to Monterey can be found here.
Monterey by Bus or Train
Amtrak's Coast Starlight train cruises through Salinas each day on its route between Seattle, Washington and Los Angeles, providing a leisurely and scenic way to travel. It's a great way to see the grandeur of the Central Coast at eye level. Free bus service is provided from Salinas to downtown Monterey, a 30-minute ride. There is also a Greyhound station in Salinas with connecting service to Monterey.
Monterey transportation around town
On weekends between 10 am and 7 pm the free trolley runs with stops in downtown, at Fisherman's Wharf, along Connery row and the Monterey Bay Aquarium.
Apart from conventional taxi service both Uber and LYFT are available in Monterey.


Visa
Generally, if you want to visit the United States for business or pleasure, you must first obtain a visitor visa. More information about applying for a Nonimmigrant Visa to the U.S. can be found here.


Parking near the Monterey Conference Center
There are 900 parking spaces available in the City of Monterey's parking structures one block from the Conference Center. Downtown East located on Washington and Tyler Street between Franklin Street and Del Monte Avenue. It has gated operated entrances with a flat fee of $7 per day. Maximum vehicle height is 6 feet 8 inches. Downtown West is located between Tyler Street, Franklin Street and Del Monte Avenue. It is hourly parking with an attendant. Except for some special events and night entry where a flat fee is charged at entry, the first hour is free, $0.50 per twenty minutes up to a maximum of $10 per day. An additional 600 parking spaces are available at the adjacent hotels. There are also metered on-street parking spots on a first come basis on the streets surrounding the Monterey Conference Center.
More Information on Parking


The city of Monterey (CA)
The city of Monterey (CA) is located on a peninsula at the southern end of Monterey Bay on the central coast of California, U.S. and boasts a temperate climate year-around. Founded on 3 June 1770, the first settlers of Monterey were Native Americans known as Rumsiens. Monterey has been under Spanish ( 1804-1821) and Mexican (1822-1834) rule. Although the United States flag was already raised over the Customs House in 1946, it took until the end Mexican-American war that California was ceded to the United States in the treaty of Guadalupe Hidalgo in 1948.

Monterey is a popular destination for scuba divers as it is well known for the abundance and diversity of its marine life, which includes sea lions, sea otters, harbor seals, bat rays, kelp forests, pelicans and dolphins and several species of whales. Only a few miles offshore is the Monterey Canyon, the largest and deepest (3.2 km) underwater canyon off the Pacific coast of North America.

Some main attractions in Monterey are: The Monterey Bay Aquarium on Cannery Row, which is one of the largest aquariums in North America; 17-Mile Drive for beautiful scenery and stunning views; Cannery Row, which is a waterfront street that originally served as a fish packing area but today is one of Monterey's main tourist areas, with shops, restaurants, and a scenic waterfront; and Old Fisherman's Wharf, a great place for drinks and seafood. For more information on things to do and see in Monterey, click here.
Background image courtesy of the International GEWEX Project Office