Venue
The 2nd ET Workshop is hosted by the Meteorology and Air Quality Group of the Wageningen University and Research.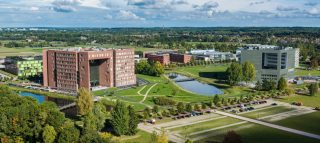 The workshop will take place at:
Lumen, Building 100
Droevendaalsesteeg 3a
6708 PB Wageningen
The Netherlands
Wageningen Campus
Transportation and Visa
Transportation
The main airport in the Netherlands is Schiphol Amsterdam. There are also some smaller airports (e.g. Rotterdam and Eindhoven) which are serviced by several European price-fighters (Transavia, Ryanair, Easy-Jet, etc). From any of these airports you can take the train to railway station Ede-Wageningen, located in Ede. From there you can either take a bus (blue buses line 84 or 88) or taxi to Wageningen.
See Useful Links on how to get to meeting venue from the airport in more detail either by public transport or by car.
Visa
If you want to travel to The Netherlands you might need a visa. The Visa Advisor helps you determine whether you need a visa and, if so, what type. The link to the The Visa Advisor is under the heading "Do I need a Visa". If you require a Short-Stay Visa continue the application process by clicking on the dark blue box "Continue To Fill The Form" just below the advice. It will guide you through the necessary steps. More information on the Schengen agreement and a Schengen Visa can be found here.


Accommodations
Close to Wageningen Centre and the busstation:
Wageningen Hotel & Congres Centre
Lawickse Allee 9
6701 AN Wageningen
Buses 84 & 88 will take you to the meeting venue in about 25 min.

With beautiful view over the river Rhine but will take a bit more time and effort to make it to the university:
Hotel de Wageningsche Berg
Generaal Foulkesweg 96
6703 DS Wageningen
Bus 352 and transfer to bus 84 or 88 will take you to the meeting venue in about 40 min
Short Stay Wageningen offers rental apartments, rooms and studios located in the center of Wageningen and near the bus station.
Bed and breakfast Wageningen offers bed & breakfast places in and around Wageningen.
You can use the Public Transportation Planner or 9292-app for detailed information on how to get from your accommodation to the meeting venue by public transportation or any other place in the Netherlands.



Useful Links
Image courtesy of
Wageningen University and Research
Background image courtesy of
Martin Bravenboer