Due to the COVID-19 pandemic the 2nd Evapotranspiration Workshop might move to a full or partial online setting. Please stay tuned for additional information in the coming weeks
Background
Evapotranspiration (ET) from soil and vegetation is a key part of the energy and water budgets and, with condensation, a process that links both explicitly. Accurate experimental determination of ET is a requirement yet challenging both in situ and remotely. It introduces uncertainties for model parameterization development and validation. Furthermore, its representation often ignores important processes for specific conditions.
In the context of the Global Energy and Water cycles EXchanges core project (GEWEX) of the World Climate Research Programme (WCRP), there is a special interest in fostering research on the subject of Evapotranspiration, because activities in this topic are arguably not currently well coordinated or addressed within the program.
To address this issue and foster the discussion, the GEWEX Hydroclimatology Panel (GHP) published a reflection paper (pg 5) in GEWEX News and organized a first ET workshop in 2019.
This second ET workshop will focus on process understanding, with a strong observational component aided by process modelling studies. The meeting will be scheduled based along the 5 lines defined at the end of the 1st workshop:
| | |
| --- | --- |
| i) | open-water evaporation, |
| ii) | interception, |
| iii) | soil evaporation, |
| iv) | transpiration and |
| v) | landscape ET. |
Objectives
The aim of this workshop is to define working groups and have a proposition on the organization within the GEWEX framework. The initiative may explore becoming:
a

PROES

action, which has the goal to advance process understanding and process representation in models through new efforts and in collaboration with already existing key groups, or,
a

GHP Cross-Cut

scheme, if the goal is to address the ET scientific topic relevant to many regions, propagate knowledge from one region to another, and synthesize results at the global scale
Agenda
The agenda will become available in January 2021 and can be accessed here.
Registration
The 2nd Evapotranspiration Workshop is by invitation only.
If you have received an invitation and want to attend, please register before 31 December 2020.

Venue and Travel
The 2nd ET Workshop is hosted by the Meteorology and Air Quality Group of the Wageningen University and Research and will take place at: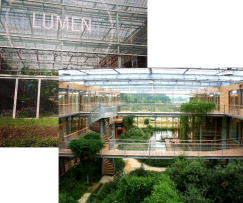 Lumen, Building 100
Droevendaalsesteeg 3a
6708 PB Wageningen
The Netherlands
More information on Venue, accomodation and transport can be found under the tab
Venue and Travel
.
Visa
If you want to travel to The Netherlands you might need a visa. More information on this subject can be found at Venue and Travel.




Background image courtesy of Martin Bravenboer Uiterwaarden, Wageningen (NL)
Images courtesy of Joseph King (Lumen building front) and Wageningen University and Research (Lumen building inside)